Swords
Parts of a sword
Hilts
According to the Warrant: "The [officer] swords of each regiment to be uniform…. The hilts of the swords to be either gilt or silver, according to the colour of the buttons on the uniform."
This being said, no doubt there was a certain level of disuniformity of swords within a regiment due to the promotion of volunteers or battlefield/baggage disasters; continual, complete officer sword uniformity within a regiment would have been impossible. Also, it is clear that officer sword hilts were not all gilt or silver only. In fact, it appears to have been standard practice that any officer corps of a silver regiment (and many gold ones, such as the 1st or Royal Regiment) preferred swords with iron or steel hilts rather than silver or gilt for campaigning, as the former were often stronger and better suited for fighting.
Example Hilts
Fine gadrooned iron mounted spadroon with single
ring counterguard. Wooden grip wrapped in copper
bound with steel tri-wire. c1760-1770.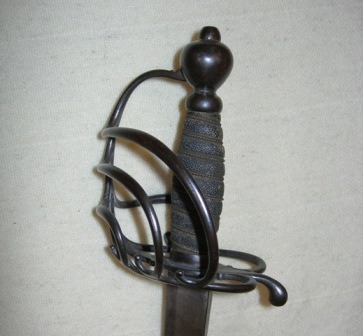 Plain iron mounted saber with four S scroll branches and
open heart counterguard. Wooden grip wrapped
in sharkskin and copper tri-wire. c1765-1775.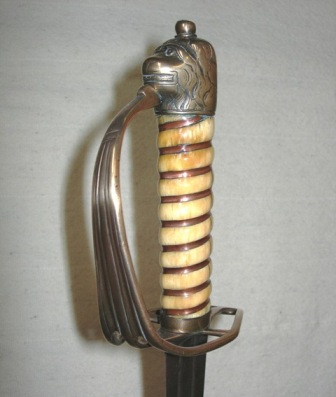 Gilt bronze lion head hanger with slotted counterguard
and copper ribbon wrapped bone grip, c1770-1780.
This type of sword was especially popular with
officers in gold metal regiments.
1742 Infantry Officer's Hanger
1742 British Officer's Sword Infantry Hanger and Scabbard is a 1742 model British Officers sword, also known as an Officer's Infantry Hanger. This remarkable sword comes with the matching scabbard, as pictured. 1742 sword pre-dates most sword models issued during the American Revolutionary War, and as the name implies, this particular model of sword was originally issued during the French and Indian War Era. Beautful sword measures 30.5 inches long with 24.5 inch steel blade length, the blade height is about 1.5 inches (slightly tapered from hilt to tip), and measures 33 inches long when sheathed, weighing just over 3lbs. Period scabbard is made from wood and bound in stiched black leather with brass accents.
page revision: 7, last edited: 28 Apr 2010 19:28